Accountants for Contractors
Written by Ray Coman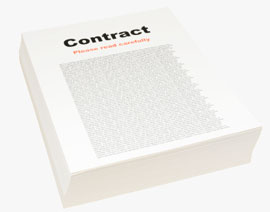 Providing services through a company is widespread for its tax and commercial advantages. Where an employment is not necessary, a company can facilitate arrangements which suit both sides to a contract. Since 2009, Coman&Co have dealt with many contractors, and provide a complete tax and accounting solution for the self-employed working through a company.
Cloud accounting through leading software
Fixed fee contractor accountant pricing
Services included in our contractor accounting package
Reasons to use company
With properly structured payments, a limited company can save national insurance for both contractor and hiring agent.
Limited liability helps protect the contractor's personal assets, including the home, from business creditors.
A company can sue and be sued in its own name, providing further protection to non-company assets.
A separate entity provides a legal structure through which a working contract can be arranged.
As a result of the above, a company can add credibility to a contractor
Some clients will only do business with a company.
IR35 review
Coman & Co is an independent chartered accountant in London. We assist the contractors both inside IR35 and outside IR35. A contract inside IR35 is one in which the working arrangement resembles employment. Contractors inside IR35 are taxed roughly the same as an employee. As accountant for the self-employed and small business, we can advise on typical hallmarks of IR35 and offer suitable accounting solutions.
Cloud accounting through leading software
It is not essential to use accounting software, however it can help credit control, year end and billing processes. Coman&Co are certified accountants with both QuickBooks and Xero. We can work with accounts prepared using other software such as Freeagent or from an Excel or Numbers spreadsheet based on a bank statement.
Fixed fee contractor accountant pricing
We offer accountancy packages, which start from £40 a month, although the most suitable packages are usually closer to £55 a month. An itemisation of annual costs can be reviewed on the pricing page. Our fees are cost effective because through experience and quantity of contractor clients, we can streamline in providing services.
Services included in our contractor accounting package
Our complete service for contractors includes:
Forming a company, often possible in the same day. The first step is to form a company, which requires a name check through Companies House search.
Registration for corporation tax, VAT and PAYE, as appropriate.
The addition of a spouse, sometimes using an alphabet share structure, for tax efficient purposes.
Pension, expense, use of home as office, and tax saving advice.
Preparation of accounts, company tax return and corporation tax calculation.
Annual registered office and company secretarial facility
Advice on choosing a year end and dormant periods
Saving tax through withdrawing funds from the company as dividends and salary
Valuation of goodwill and other assets on incorporation
Advice on owning assets personally or through the company
Support through any tax enquiry
We can provide an efficient service based on thorough experience of tax and accounting for contractor companies. Meetings can be held face to face or by telephone. A dedicated accountant will be a consistent point of contact for each client. Reviews on Google and Trust Pilot from satisfied clients are testament to the quality of our offering. Please contact us for a professional consultation.