Personal tax planning
Written by Ray Coman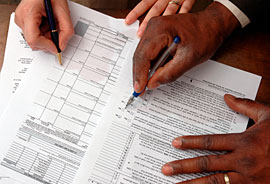 Keeping tax minimised is a priority for wealth protection. However, the challenge is complicated by the number of taxes and ever-changing nature of the tax system. Tax planning is the identification of tax saving opportunities. The objective of tax compliance is to avoid financial loss caused by falling short of regulation. At Coman&Co, both planning and compliance are at the core of our offering.
Help with resolving an HMRC enquiry
Is tax planning risky?
Often clients carry a misgiving that tax planning involves something unscrupulous. Tax regulation is used to stimulate certain type of activity (such as cycling) and discourage others (such as the use of petrol.) By understanding a client's need and matching it to our tax expertise we promote financial benefit. Financial affairs are optimised through tax efficiency. On a grander scale, tax work intends to avoid distortion in the economy.
Help with resolving an HMRC enquiry
Clients that have switched to our service after finding a scheme they have used is an unlawful type of tax avoidance. A tax enquiry can bring a taxpayer into a longwinded and costly correspodence with HMRC. As an authorised tax agent, we can help bring an enquiry to a prompt conculsion. Our ticket is above board and we have saved our clients handsomely over the years through careful tax advice.
How Coman&Co saves tax
Coman & Co are chartered tax advisers and offer specialised tax planning services which:
In our advice we aim to:
Account for all taxes affecting decisions and the interaction of these taxes.
Integrate personal and financial objectives
Consider proposed changes to the legislation to mitigate liabilities long term.
Please contact us for a free consultation.